Library News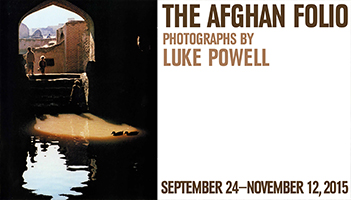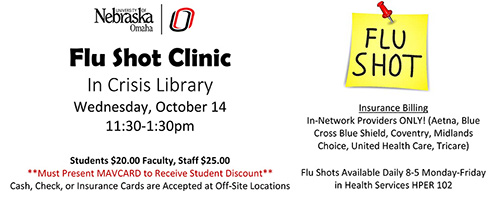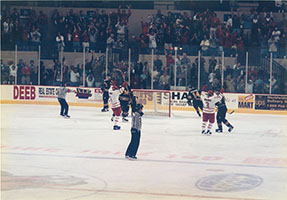 Relive the excitement of UNO Hockey in Criss Library Archives & Special Collections! UNO began its NCAA Division I hockey program in the fall of 1997. The first Maverick hockey contest was on October 17, 1997 at the Omaha Civic Auditorium – a 3-2 loss to the University of Manitoba Bisons. The display includes memorabilia from the first game including a game-worn jersey from the first Maverick to score a goal, programs, tickets, and photographs along with a signed puck, cowbell, and programs signed by the 2015 Frozen Four Mavericks Hockey team. Video clips from the game can also be viewed in the lobby of Archives & Special Collections.
Relive UNO's first NCAA Division I Hockey game! Criss Library will replay UNO's sold out 1997 exhibition hockey game against the University of Manitoba on Saturday, October 17th at 1:30pm to mark the first hockey game at Baxter Arena. Memorabilia including a game-worn jersey, photographs, programs, & more will also be on display in Criss Library Archives & Special Collections.
Free & open to the public. Light refreshments will be served.
For more information, contact Amy Schindler at acschindler@unomaha.edu, 402-554-6046.
Troubleshooting Off Campus Access
Off Campus Access
To access databases from off campus, users should select the appropriate database or electronic journal link from the Library website. You will be taken to an "Authentication Required" screen and asked for your last name and NU ID Number. Enter your last (family) name in all lower case and the 8-digit barcode number that appears on the front of your MavCard.
All of the Library's subscription databases can be used from off-campus at home or work if you are a student, staff or faculty member at UNO. Nebraska Library Commission provides access to a few databases for all Nebraska residents. Please refer to their website.
Please note: you must have cookies enabled on your browser for off campus access to work properly. Most browsers are configured to accept cookies by default and no special action is required.
For Further Assistance
If you experience difficulties please contact a service desk at 402-554-2661, 402-554-3206 or Ask-A-Librarian for assistance