Library News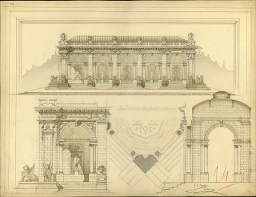 On display on the first floor of Criss Library is the new exhibit, "The Architectural Studies of H. A. Raapke," featuring works produced during H. A. Raapke's student years, circa 1899-1907. Many of these drawings were part of his coursework for two schools in Paris: Altier Préparatoire D'Architecture and École Nationale des Beaux-Arts.
Sixteen of Raapke's original drawings are on display in the windows of the Archives and Special Collections area of Criss Library. The exhibit will run through the end of April 2016. All 59 extant drawings in the library's collection may be viewed in the Criss Library Online Exhibit space at http://unomaha.omeka.net/exhibits/show/raapke.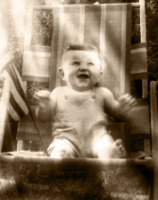 On display in Archives and Special Collections at Criss Library is Charles Timothy Hagel: A Life in Photographs, a biographical exhibit spanning the life of U.S. Secretary of Defense and U.S. Senator Chuck Hagel. A more in-depth version of the exhibit with some different photographs can be viewed online at: http://hagel.omeka.net/exhibits/show/chuckhagelbiography.
This exhibit coincides with the opening of the first portion of the U.S. Senator Chuck Hagel Archives to the community. Researchers may now browse and search inventories of Hagel Photographs, Artifacts, Grant Files, and Schedules in the Archives and Speical Collections database at http://unomaha-public.lyrasistechnology.org/repositories/4/resources/508.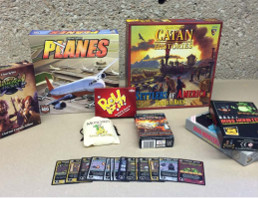 Game Night at Criss Library will be onFebruary 21 from 6-9pm! Game Night will continue on the 3rd Sunday of each month throughout the rest of the semester! Bring your own board games, or use ours. Everyone is welcome, so mark your calendars, and bring a friend! If you have questions, contact Claire Chamley at cchamley@unomaha.edu.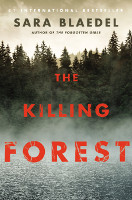 International bestselling author of The Forgotten Girls, Sara Blaedel, will visit Omaha on her U.S. tour for her new book The Killing Forest with an event co-sponsored by UNO Dr. C.C. and Mabel L. Criss Library and the Danish American Archive & Library. Blaedel will speak at UNO's Criss Library on Saturday, February 6th at 1pm. Light refreshments will be served. Sara Blaedel is the author of nine bestselling crime fiction novels published in twenty three countries, translated into over thirteen languages, and optioned for film rights.
Blaedel's latest thriller The Killing Forest takes readers on a journey back through detective Louise Rick's past as she reconnects with the principal investigator at the Hobaek Police Department, her former in-laws, a fanatic religious cult, and her longtime close friend, journalist Camilla Lind. As she navigates through the small town's cramped network of deadly connections, Louise unearths toxic truths left unspoken, and dangerous secrets. The book is full of fascinating details about ancient Nordic religions.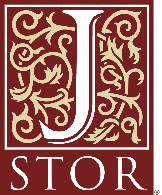 Criss Library recently purchased the JSTOR "full house", and UNO now has access to all fourteen Arts & Sciences collections, and the Life Science collection. The JSTOR collections stand among the most important archives of academic journals, and the "full house" brings over 2,100 additional journals to the library's JSTOR account.
As is standard with the JSTOR archives, a three-to-five year "moving wall" governs access to articles. Depending on the license negotiated with each journal publisher, articles are released into the archival collections three to five years after publication. More recent articles may be available through the library's current subscriptions, and researchers may check the All eJournals A-Z directory to confirm this. The library catalog also includes records for journal subscriptions and even many individual articles.
For more information about these new resources, please contact Jim Shaw at jshaw@unomaha.edu or (402)554-2225.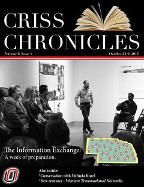 For your reading enjoyment, the current issue of the library newsletter, Criss Chronicles, is available. Click here to read the latest!
Theater Room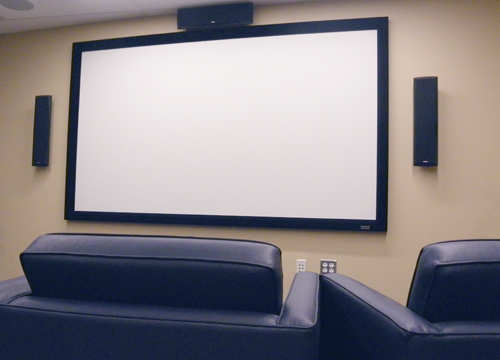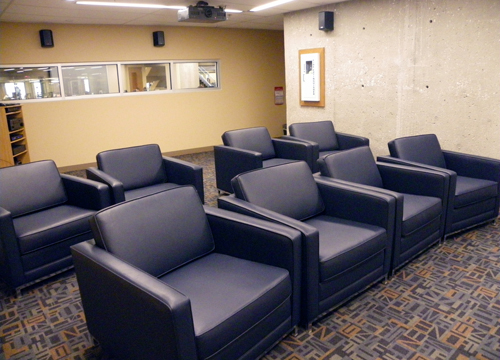 Criss Library is featuring a new service just for you—the Theater Room! The Theater Room is available to all UNO students, faculty and staff, and is designed for viewing media for academic, as well as leisure purposes. For your optimum viewing pleasure, the Theater Room is equipped with eight comfy chairs (more available upon request), a Sony Blu-Ray player, 9-channel AV receiver, HD projector, 110 in. screen, iPod docking station, PC, wireless keyboard, mouse, and cable television. The Theater Room is conveniently located on the main floor (2nd floor) of the Criss Library behind the SCOLA Learning Center. This room can entertain 16 people at a time, and can be reserved for up 4 hours with a signed agreement. For more information on making Theater Room reservations, visit the UNO Criss Library Main Service Desk or call 402.554.3602.
Eligible Users
The Theater Room is available to UNO students, faculty, and staff. NOTE: Academic use of this room will supersede non-academic use.
Check out
Eligible users should present their UNO MavCard I.D. to the Main Service Desk in order to check out the Theater Room. A consent form must be signed each semester. The key is the sole responsibility of the user to whom it is checked out. Do not give the key to other members of the group. Rooms that have been reserved but are not checked out within 15 minutes after the start time will be released for use by another group.
Terms of Use
Room is only for viewing/discussion of film and multi-media productions. X-Rated films cannot be viewed in this room.

Academic use of this room supersedes non-academic use.

Only current UNO faculty, staff, and students are eligible to reserve the Theater Room, which may be booked one month in advance and may be booked for up to a 4 hour period. The theater room is available for booking during all library hours.

Use of this room requires filling out a consent form once per semester. The patron is responsible for the key at all times during the check out period and is liable for any damage incurred during that time.

If equipment or room is damaged, the patron will be fined based on the amount of damage, a hold will be placed on their account with the Registrar's office and the patron will lose all checkout privileges until the fine is paid.

Transcripts will be held until the fee is paid.