Library News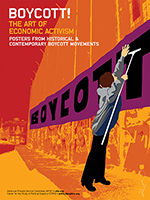 "Boycott! The Art of Economic Activism," a traveling poster exhibition highlighting historical boycott movements from the 1950s to the present, will be on Display August 20 - September 20 at University of Nebraska at Omaha Criss Library's Osborne Family Gallery.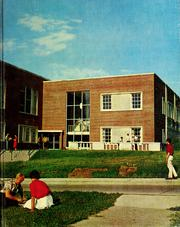 The University of Nebraska at Omaha yearbook or annual went by several names, beginning as the Gateway in 1915 and then becoming the Omahan, Tomahawk, and Breakaway before ending as the Maverick in 1973-1975. Through the yearbooks themselves, the exhibit highlights the university's response to World War II; images of the growing and changing campus, especially Arts & Sciences Hall; and changes in the content and appearance of the yearbook. The exhibit in Archives & Special Collections marks 100 years since the publication of the university's first yearbook and the free online access to UNO's yearbook first available in 2015 from Criss Library.
The current exhibit in Archives and Special Collections has a display of Afghan Art dating from the 1st century B.C.E. to the present. Items on display reveal information on Greco-Bactrian art, contemporary art, popular art, and miniature paintings by Bihzad, a famous Afghan painter from late 15th and early 16th centuries. Also included in the display are handmade pottery works from Afghanistan, produced in Istalif, a small town north of Kabul during the mid-twentieth century.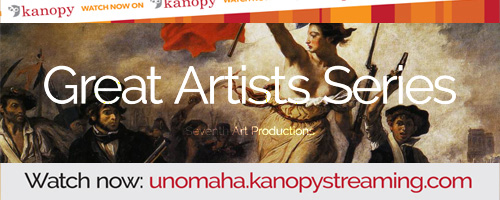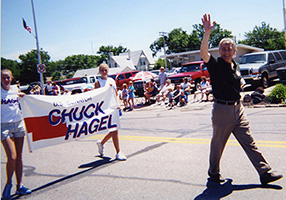 The newest exhibit in Archives & Special Collections at Criss Library gives visitors a glimpse into the life of Chuck Hagel on the campaign trail in Nebraska in 1996 and 2002. When Hagel decided to run for U.S. Senate in 1996 he was virtually unknown to most Nebraskans. As such, Hagel needed to reach out to communities across the state if he intended to win the election. One way Hagel gained support was through local parades and events. This approach helped Hagel win the election and maintain his seat when he ran again in 2002. The photos on display provide a look into the many events, parades, and other local activities that Hagel, his family, his campaign staff, and his volunteers participated in across Nebraska to garner support for Hagel in his two runs for public office.
Fax & Scan
Fax Service
Outgoing fax service is available at the Main Floor Service Desk. Price are $1.00 per page for local faxing, long-distance is $2.00 for the first page and $1.00 for each additional page. International faxes are $4.00 for the first page and $1.00 for each additional page. The following Nebraska cities: Bennington, Elkhorn, Fremont, Gretna, Springfield, Valley, Waterloo; Iowa cities: Carter Lake, Council Bluffs, Crescent, Glenwood, Mineola, Missouri Valley, Silver City, Underwood; and 1-800 or 1-888 numbers are all considered local calls, and there is no charge for on-campus faxes. Incoming faxes are not accepted.
Fax Services on the Web
Can't make it in to the Library? You can try one of these web-based fax services: Faxzero (http://faxzero.com) is free or pay to use EFax (http://www.efax.com), Send to Fax (http://www.send2fax.com/), and MyFax (http://www.myfax.com).
Microfilm/Microfiche Readers/Scanners
Three microfilm/microfiche reader/scanners and one microfiche/card reader/scanner are available east of the microfilm filing cabinets on first floor. These units can scan microfilm/fiche and send images to the print station for $0.07 per page using your MavCard ID/guest print card. Images can also be stored on your personal storage device or emailed.
Scanners
Two scanning workstations are located east of the Main Service Desk on the second floor. These workstations are equipped with the most recent versions of Adobe Photoshop (for image scanning) and OmniPage Pro (for text scanning). Both scanning workstations feature flatbed scanners, allowing for scanning sizes up to 8.5" x 11" as well as the scanning of slides and film negatives using specialized adapters.second floor, north-east of the service desk, are available for disability access.