Library News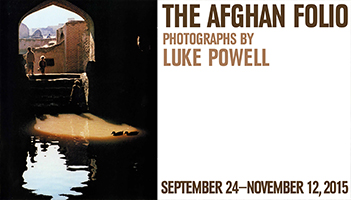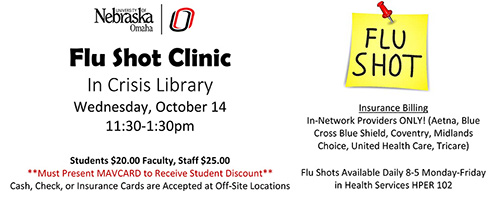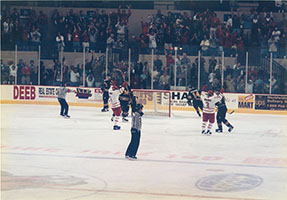 Relive the excitement of UNO Hockey in Criss Library Archives & Special Collections! UNO began its NCAA Division I hockey program in the fall of 1997. The first Maverick hockey contest was on October 17, 1997 at the Omaha Civic Auditorium – a 3-2 loss to the University of Manitoba Bisons. The display includes memorabilia from the first game including a game-worn jersey from the first Maverick to score a goal, programs, tickets, and photographs along with a signed puck, cowbell, and programs signed by the 2015 Frozen Four Mavericks Hockey team. Video clips from the game can also be viewed in the lobby of Archives & Special Collections.
Relive UNO's first NCAA Division I Hockey game! Criss Library will replay UNO's sold out 1997 exhibition hockey game against the University of Manitoba on Saturday, October 17th at 1:30pm to mark the first hockey game at Baxter Arena. Memorabilia including a game-worn jersey, photographs, programs, & more will also be on display in Criss Library Archives & Special Collections.
Free & open to the public. Light refreshments will be served.
For more information, contact Amy Schindler at acschindler@unomaha.edu, 402-554-6046.
Fax & Scan
Fax Service
Outgoing fax service is available at the Main Floor Service Desk. Price are $1.00 per page for local faxing, long-distance is $2.00 for the first page and $1.00 for each additional page. International faxes are $4.00 for the first page and $1.00 for each additional page. The following Nebraska cities: Bennington, Elkhorn, Fremont, Gretna, Springfield, Valley, Waterloo; Iowa cities: Carter Lake, Council Bluffs, Crescent, Glenwood, Mineola, Missouri Valley, Silver City, Underwood; and 1-800 or 1-888 numbers are all considered local calls, and there is no charge for on-campus faxes. Incoming faxes are not accepted.
Fax Services on the Web
Can't make it in to the Library? You can try one of these web-based fax services: Faxzero (http://faxzero.com) is free or pay to use EFax (http://www.efax.com), Send to Fax (http://www.send2fax.com/), and MyFax (http://www.myfax.com).
Microfilm/Microfiche Readers/Scanners
Three microfilm/microfiche reader/scanners and one microfiche/card reader/scanner are available east of the microfilm filing cabinets on first floor. These units can scan microfilm/fiche and send images to the print station for $0.07 per page using your MavCard ID/guest print card. Images can also be stored on your personal storage device or emailed.
Scanners
Two scanning workstations are located east of the Main Service Desk on the second floor. These workstations are equipped with the most recent versions of Adobe Photoshop (for image scanning) and OmniPage Pro (for text scanning). Both scanning workstations feature flatbed scanners, allowing for scanning sizes up to 8.5" x 11" as well as the scanning of slides and film negatives using specialized adapters.second floor, north-east of the service desk, are available for disability access.