Library News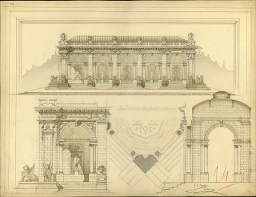 On display on the first floor of Criss Library is the new exhibit, "The Architectural Studies of H. A. Raapke," featuring works produced during H. A. Raapke's student years, circa 1899-1907. Many of these drawings were part of his coursework for two schools in Paris: Altier Préparatoire D'Architecture and École Nationale des Beaux-Arts.
Sixteen of Raapke's original drawings are on display in the windows of the Archives and Special Collections area of Criss Library. The exhibit will run through the end of April 2016. All 59 extant drawings in the library's collection may be viewed in the Criss Library Online Exhibit space at http://unomaha.omeka.net/exhibits/show/raapke.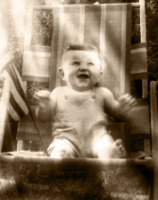 On display in Archives and Special Collections at Criss Library is Charles Timothy Hagel: A Life in Photographs, a biographical exhibit spanning the life of U.S. Secretary of Defense and U.S. Senator Chuck Hagel. A more in-depth version of the exhibit with some different photographs can be viewed online at: http://hagel.omeka.net/exhibits/show/chuckhagelbiography.
This exhibit coincides with the opening of the first portion of the U.S. Senator Chuck Hagel Archives to the community. Researchers may now browse and search inventories of Hagel Photographs, Artifacts, Grant Files, and Schedules in the Archives and Speical Collections database at http://unomaha-public.lyrasistechnology.org/repositories/4/resources/508.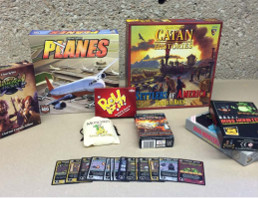 Game Night at Criss Library will be onFebruary 21 from 6-9pm! Game Night will continue on the 3rd Sunday of each month throughout the rest of the semester! Bring your own board games, or use ours. Everyone is welcome, so mark your calendars, and bring a friend! If you have questions, contact Claire Chamley at cchamley@unomaha.edu.

On Sunday February 21, from 6:00AM-12:00PM, some services, such as the library website and access to databases may be unavailable during this time. All services are scheduled to be restored on or before noon on the 21st.
Student Reserves
Library materials such as books, videos, disks, and copies of journal articles are placed in the Reserve section behind the Main Service Desk at the instructor's request. These items may be checked out for a limited period of time, allowing greater access to all students in a class. Journal articles, book chapters, and other materials may be scanned into digital format and placed on electronic reserve at the instructor's request. Electronic reserves are available 24/7 from any computer with internet access. Access to links and articles from subscription databases requires that you have a current library account. Items that are copyright protected will require a password provided to you by your instructor.
Traditional (Hard Copy) Reserves
Search by Course Name or Instructor.
Electronic Reserves (E-Res)
Search by department, instructor or keyword.