Library News
Criss Library hours for Wednesday, November 25th will be 7:00am - 5:00pm. The library will be closed, Thursday through Saturday, November 26-28 in observance of the Thanksgiving holiday.
Regular hours resume Sunday, November 29, at noon.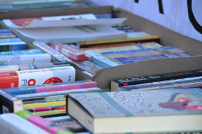 The University Library Friends will be holding a Book Sale November 30-December 4 on the main floor of the Library.
Paperbacks & media will be $1, and hardcover books will be $2. Proceeds from the sale benefit the UNO Criss Library via donation to the University Library friends. All book sale items are gift donations to the library.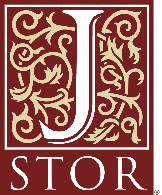 Criss Library recently purchased the JSTOR "full house", and UNO now has access to all fourteen Arts & Sciences collections, and the Life Science collection. The JSTOR collections stand among the most important archives of academic journals, and the "full house" brings over 2,100 additional journals to the library's JSTOR account.
As is standard with the JSTOR archives, a three-to-five year "moving wall" governs access to articles. Depending on the license negotiated with each journal publisher, articles are released into the archival collections three to five years after publication. More recent articles may be available through the library's current subscriptions, and researchers may check the All eJournals A-Z directory to confirm this. The library catalog also includes records for journal subscriptions and even many individual articles.
For more information about these new resources, please contact Jim Shaw at jshaw@unomaha.edu or (402)554-2225.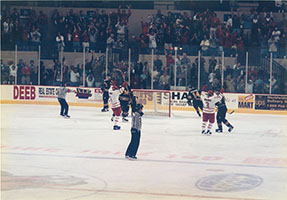 Relive the excitement of UNO Hockey in Criss Library Archives & Special Collections! UNO began its NCAA Division I hockey program in the fall of 1997. The first Maverick hockey contest was on October 17, 1997 at the Omaha Civic Auditorium – a 3-2 loss to the University of Manitoba Bisons. The display includes memorabilia from the first game including a game-worn jersey from the first Maverick to score a goal, programs, tickets, and photographs along with a signed puck, cowbell, and programs signed by the 2015 Frozen Four Mavericks Hockey team. Video clips from the game can also be viewed in the lobby of Archives & Special Collections.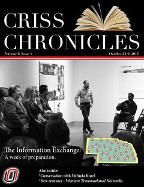 For your reading enjoyment, the current issue of the library newsletter, Criss Chronicles, is available. Click here to read the latest!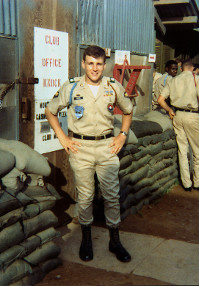 On display on the 1st floor of Criss Library is the new exhibit "In Service to His Country: Chuck Hagel and Vietnam." The exhibit of photographs and memorabilia from the U.S. Senator Chuck Hagel Archives focuses on his military service in Vietnam and the Vietnam Veterans Memorial Wall in Washington, D.C. The memorabilia includes a shovel used at the 1982 groundbreaking ceremony for The Wall, a replica of the Three Soldiers Statue, and certificates for his Purple Heart awards. Among the pictures are Hagel during his Vietnam tour, at The Wall in 1982, and with the other U.S. Senators who served in Vietnam.
Reserve Guidelines and Submission Instructions
General Reserve Guidelines
Items in the both the traditional and electronic reserve system can be searched by instructor's name or course.
Journal articles are available on E-Reserves only, unless copyright cannot be secured for the electronic copy or the cost is prohibitive.
Lecture notes and test files are available as E-Reserves only and may be submitted in either electronic (via email or webform) or in print format.
The Library will not accept course packs for Reserves.
All materials will be removed from the traditional and electronic reserve system at the end of the semester. Faculty wishing to renew reserve materials must submit a request to renew materials before the end of the semester.
Faculty will receive a packet at the end of semester detailing their reserve item usage and cost of copyright fees paid by library on their behalf.
Access to electronic reserve materials is restricted to the instructor and students for each course and is password protected.
Items over ten pages in length may be separated into multiple .pdf files for ease of electronic access.
Submission of Request(s)
Faculty should submit a completed Reserve Request Form. There are separate web forms for Journal Articles and Books/Media. You may also download and print or email a pdf form for all material types.
Requests must include accompanying materials:

All personal materials should be included with the form at the time of request, or delivered to the library within one week within one week after the web form has been submitted.
Requests must include a class syllabus or statement of use submitted with the request form. Requests will not be processed until the class syllabus or statement of use is received.

Why do I have to submit a syllabus? See the FAQ.
Copyrighted materials submitted for Reserves must be required readings as specified in your course syllabus.

All requests that require payment of a copyright clearance fee must be submitted with a current syllabus.

Requests accompanied by a syllabus are given first priority in processing.
Syllabi do not have to be resubmitted if you add additional items later in the same semester.
Library staff are happy to pull the requested library materials provided that you submit full bibliographic citations.
Faculty are encouraged to submit all reserve materials prior to, or at the beginning of, the semester for which the materials will be required. Please allow at least 48 hours between the request time and when the students will be required to start using the material(s). Processing times may increase up to 5 working days during the peak processing periods at the start of the Fall and Spring semesters.
Copyrighted materials should be submitted well in advance of the date they are needed. If copyright permission must be requested, it may take four to six weeks or longer to obtain and will affect item availability.
Articles downloaded from online databases will not be posted due to copyright restrictions. Library staff will provide a direct link to the article, when possible, or post a full citation, provided by the instructor, for the article and provide a link to the Research Database page on the Library's website.
Copies for E-Reserves must be on 8.5" x 11" paper and accompany the request form.
Copyright Guidelines
Materials that can be placed on electronic Reserve without obtaining copyright permission include:

Copyrighted material limited to

One article from a journal issue, For one semester only.
One chapter or less than 10% of the content from a book. For one semester only.

Non-copyrighted materials

Course materials owned by the instructor such as syllabi, lecture notes, or exams,
Government publications.

In compliance with copyright guidelines, Criss Library will obtain permission for copyrighted materials when:

An article is needed for more than one semester;
Multiple articles from the same journal are needed;
One chapter of a book is needed for more than one semester;
Multiple chapters of a book are needed;

Criss Library will pay all fees and royalties. However, the Library reserves the right to refuse any item for electronic reserves due to excessive copyright costs. Faculty will be notified promptly if this is the case.
All policies regarding payment of copyright fees are contingent on Library budget constraints and subject to change.
Electronic Reserve items that require copyright permission will not be posted until permission is secured.