Library News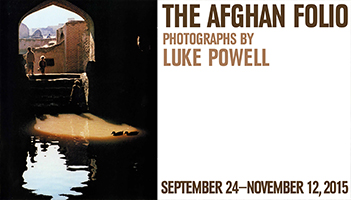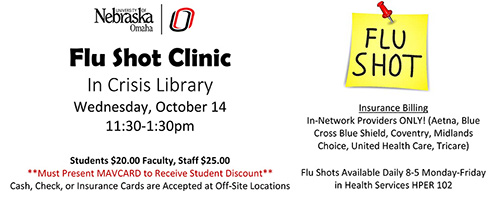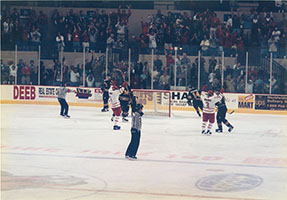 Relive the excitement of UNO Hockey in Criss Library Archives & Special Collections! UNO began its NCAA Division I hockey program in the fall of 1997. The first Maverick hockey contest was on October 17, 1997 at the Omaha Civic Auditorium – a 3-2 loss to the University of Manitoba Bisons. The display includes memorabilia from the first game including a game-worn jersey from the first Maverick to score a goal, programs, tickets, and photographs along with a signed puck, cowbell, and programs signed by the 2015 Frozen Four Mavericks Hockey team. Video clips from the game can also be viewed in the lobby of Archives & Special Collections.
Relive UNO's first NCAA Division I Hockey game! Criss Library will replay UNO's sold out 1997 exhibition hockey game against the University of Manitoba on Saturday, October 17th at 1:30pm to mark the first hockey game at Baxter Arena. Memorabilia including a game-worn jersey, photographs, programs, & more will also be on display in Criss Library Archives & Special Collections.
Free & open to the public. Light refreshments will be served.
For more information, contact Amy Schindler at acschindler@unomaha.edu, 402-554-6046.
Faculty Reserves
The Library offers traditional (hard copy) reserves and electronic reserves services for faculty to supplement their classroom instruction. The Library accepts requests for items owned by the Library or the faculty member's personal copy.
Items placed on traditional reserves are made available for checkout at the Main Service Desk. Items placed on Electronic Reserve (E-Reserves/E-Res) are available via links on the Library website. As a general rule, all journal articles are available on E-Reserves only, unless copyright cannot be secured for the electronic copy or the cost is prohibitive. E-Reserves can also be used for some electronic texts, book chapters, audio files, and small video files. Faculty may wish to take into account the benefits and limitations of both traditional and electronic reserve services when considering the placement of materials on reserve.
Policies
Traditional Reserve Policy
E-Reserves Policy
Copyright Clearance Fee Policy
Guidelines and Submission Instructions
Guidelines and Submission Instructions for Reserves
Forms
Books or Media Items webform
Journal Articles webform
All material types via pdf format
Reserve Links
Finding Reserve Items at Criss Library
For Further Assistance
Contact the Library via Email or by calling Reserve Assistants daytime or evening at 402-554-2861.