Library News
Criss Library is extending hours for prep and finals week this semester. The library will stay open until 1:00am Monday-Thursday during prep week, and Sunday-Wednesday during finals week to allow UNO students additional research and study hours.
Dates for extended library hours are:
Monday-Thursday, December 7-10: 7:00am - 1:00am
Sunday, December 13: Noon-1:00am
Monday-Wednesday, December 14-16: 7:00am - 1:00am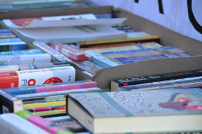 The University Library Friends will be holding a Book Sale November 30-December 4 on the main floor of the Library.
Paperbacks & media will be $1, and hardcover books will be $2. Proceeds from the sale benefit the UNO Criss Library via donation to the University Library friends. All book sale items are gift donations to the library.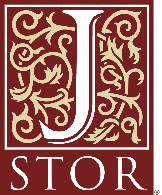 Criss Library recently purchased the JSTOR "full house", and UNO now has access to all fourteen Arts & Sciences collections, and the Life Science collection. The JSTOR collections stand among the most important archives of academic journals, and the "full house" brings over 2,100 additional journals to the library's JSTOR account.
As is standard with the JSTOR archives, a three-to-five year "moving wall" governs access to articles. Depending on the license negotiated with each journal publisher, articles are released into the archival collections three to five years after publication. More recent articles may be available through the library's current subscriptions, and researchers may check the All eJournals A-Z directory to confirm this. The library catalog also includes records for journal subscriptions and even many individual articles.
For more information about these new resources, please contact Jim Shaw at jshaw@unomaha.edu or (402)554-2225.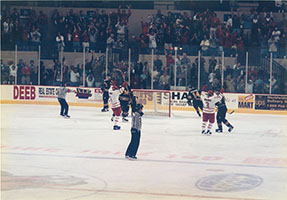 Relive the excitement of UNO Hockey in Criss Library Archives & Special Collections! UNO began its NCAA Division I hockey program in the fall of 1997. The first Maverick hockey contest was on October 17, 1997 at the Omaha Civic Auditorium – a 3-2 loss to the University of Manitoba Bisons. The display includes memorabilia from the first game including a game-worn jersey from the first Maverick to score a goal, programs, tickets, and photographs along with a signed puck, cowbell, and programs signed by the 2015 Frozen Four Mavericks Hockey team. Video clips from the game can also be viewed in the lobby of Archives & Special Collections.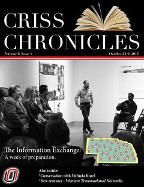 For your reading enjoyment, the current issue of the library newsletter, Criss Chronicles, is available. Click here to read the latest!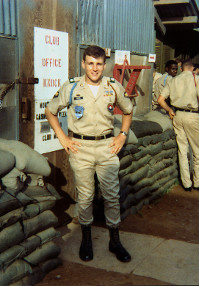 On display on the 1st floor of Criss Library is the new exhibit "In Service to His Country: Chuck Hagel and Vietnam." The exhibit of photographs and memorabilia from the U.S. Senator Chuck Hagel Archives focuses on his military service in Vietnam and the Vietnam Veterans Memorial Wall in Washington, D.C. The memorabilia includes a shovel used at the 1982 groundbreaking ceremony for The Wall, a replica of the Three Soldiers Statue, and certificates for his Purple Heart awards. Among the pictures are Hagel during his Vietnam tour, at The Wall in 1982, and with the other U.S. Senators who served in Vietnam.
Copy & Print
Copying
Three MavCard copiers (2 black-and-white and 1 color) are located on the first floor of the library in the print center just south of the service desk. Two MavCard copiers (1 black-and-white and 1 color) are located on the second floor of the library in the print center north-east of the service desk. Copiers accept your MavCard ID and guest print card for payment (see details below). The cost of copying or printing with your ID/guest print card is $0.07 per page.
Printers
All workstations print to both the first floor and second floor print centers. Black-and-white and color laser printing from the public-access computers is available using your MavCard ID or guest print card. Black-and-white printing is $0.07 per page; color printing is $0.40 per page. Print jobs are sent to the printstations, located on either the first floor or second floor near the service desks.
Wireless Printing
WEPA can be used by anyone, just register for an account at http://l.unomaha.edu/W3P4 if you're not a UNO Student, Staff or Faculty member.
The account setup will be actived immediately, there is no need to wait for a confirmation email.
Plug a USB drive into the kiosk, download the WEPA app directly to your device, or use the WEPA cloud to drop files into. Login with your credentials at the kiosk and your print jobs will be waiting.
Payment can be made via credit/debit card at the kiosk, or funds can be added to your WEPA account from the website, or you can use the guest MavCard on campus.
Here's more info on other kiosk locations, pricing, and how-to's: http://l.unomaha.edu/W3P4info
MavCard/Guest Print Card Machine
MavCard/Guest Print Card machines are located on both the first floor and second floor, in the print centers. You may add money to your MavCard, or purchase a Guest Print Card for 50 cents. After your initial purchase of a Guest Print Card, you may continue to add money for further printing purposes. There are other campus locations where you may add money to your MavCard, including Milo Bail Student Center (MBSC), Arts and Sciences Hall (ASH), and the Peter Kiewit Institute (PKI).
MavCard machines accept $1, $5, $10 or $20 bills (no coins). Money can also be added by cash, check, MasterCard, VISA, Discover or American Express at MavCard Services, second floor of the Milo Bail Student Center (MBSC), Monday through Friday, 8 a.m. to 5 p.m. Additionally, MavCard Online allows users to make deposits, view transactions and manage account settings online.