Library News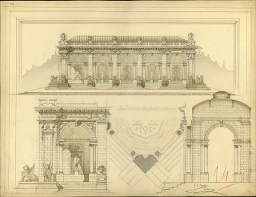 On display on the first floor of Criss Library is the new exhibit, "The Architectural Studies of H. A. Raapke," featuring works produced during H. A. Raapke's student years, circa 1899-1907. Many of these drawings were part of his coursework for two schools in Paris: Altier Préparatoire D'Architecture and École Nationale des Beaux-Arts.
Sixteen of Raapke's original drawings are on display in the windows of the Archives and Special Collections area of Criss Library. The exhibit will run through the end of April 2016. All 59 extant drawings in the library's collection may be viewed in the Criss Library Online Exhibit space at http://unomaha.omeka.net/exhibits/show/raapke.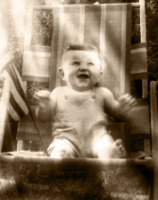 On display in Archives and Special Collections at Criss Library is Charles Timothy Hagel: A Life in Photographs, a biographical exhibit spanning the life of U.S. Secretary of Defense and U.S. Senator Chuck Hagel. A more in-depth version of the exhibit with some different photographs can be viewed online at: http://hagel.omeka.net/exhibits/show/chuckhagelbiography.
This exhibit coincides with the opening of the first portion of the U.S. Senator Chuck Hagel Archives to the community. Researchers may now browse and search inventories of Hagel Photographs, Artifacts, Grant Files, and Schedules in the Archives and Speical Collections database at http://unomaha-public.lyrasistechnology.org/repositories/4/resources/508.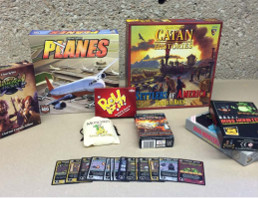 Game Night at Criss Library will be onFebruary 21 from 6-9pm! Game Night will continue on the 3rd Sunday of each month throughout the rest of the semester! Bring your own board games, or use ours. Everyone is welcome, so mark your calendars, and bring a friend! If you have questions, contact Claire Chamley at cchamley@unomaha.edu.

On Sunday February 21, from 6:00AM-12:00PM, some services, such as the library website and access to databases may be unavailable during this time. All services are scheduled to be restored on or before noon on the 21st.
Faculty Study & Study Carrels
Faculty Study
Access to the Library Faculty Study, located on the third floor of Criss Library, is by Prox Card. All current faculty are eligible and welcome in the Library Faculty Study area. This includes the lounge, kitchen, and scholar reading rooms. To gain access to the Library Faculty Study area, please fill out this form and return via email, campus mail, fax (554-3215) or in person at the Main Service Desk.
The Faculty Study Carrels Policy has more information about the carrels, their amenities, and availability.
Faculty Study Carrels
15 faculty study carrels, located within the Library Faculty Study area, are available for sharing on a semester basis. To request space in a shared faculty study room complete this form and return, via campus mail or in person, to the Main Service Desk. Each mini-office provides a bookshelf, storage, ergonomic chair, power, data port and energy efficient lighting.
Eligibility
University of Nebraska full-time tenured and tenure track faculty, full-time non-tenure track, part-time, adjunct, Emeriti or retired faculty are eligible for faculty study carrels. Faculty applicants must be working on a specific project or research in order to be assigned a study. Applicants may print out the application online (PDF) or stop by the Main Service desk and pick one up. Applications must be approved by the relevant college departmental chairperson. Click here for the terms of use.
Disbursement of Assignments
Faculty will be assigned study carrels on a first-come, first served basis. Sharing of carrels will be by department or request.
Length of Assignments
Length of assignment is per semester with one renewal. Faculty may go through the application process again at the end of the second semester, and their application will be reconsidered at that time. Occupants are asked to notify the Library if they no longer need their study carrel before the designated period has ended.
Security
Carrels should be locked at all times when not in use. Criss Library assumes no responsibility for the loss of or damage to personal possessions that are kept in study carrels. Failure to comply with study carrel policies will be cause for withdrawal of the carrel assignment. Study carrel policies are posted in each study carrel.