Library News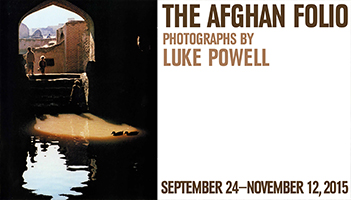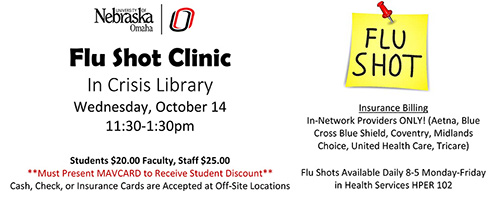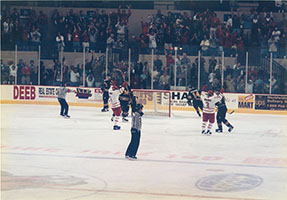 Relive the excitement of UNO Hockey in Criss Library Archives & Special Collections! UNO began its NCAA Division I hockey program in the fall of 1997. The first Maverick hockey contest was on October 17, 1997 at the Omaha Civic Auditorium – a 3-2 loss to the University of Manitoba Bisons. The display includes memorabilia from the first game including a game-worn jersey from the first Maverick to score a goal, programs, tickets, and photographs along with a signed puck, cowbell, and programs signed by the 2015 Frozen Four Mavericks Hockey team. Video clips from the game can also be viewed in the lobby of Archives & Special Collections.
Relive UNO's first NCAA Division I Hockey game! Criss Library will replay UNO's sold out 1997 exhibition hockey game against the University of Manitoba on Saturday, October 17th at 1:30pm to mark the first hockey game at Baxter Arena. Memorabilia including a game-worn jersey, photographs, programs, & more will also be on display in Criss Library Archives & Special Collections.
Free & open to the public. Light refreshments will be served.
For more information, contact Amy Schindler at acschindler@unomaha.edu, 402-554-6046.
Other Services
Faculty Library Assistant (FLA) Program
Faculty may authorize up to two people to conduct business at the Library on their behalf with a FLA Library Account. Faculty Library Assistants may perform the following activities:
Main Service - checkout items, returns, place and pick-up hold/recalled items, request searches, pay replacement costs, and submit Faculty Study Room applications.
Interlibrary Loan - requests, pick up, and return items.
Reserve - add and delete Reserve items.
Authorizing faculty are responsible for all items checked out on the FLA account. Forms are available online or for download and at the Main Service Desk inside the library's main entrance. For more information see FLA Policies.
Interlibrary Loan
Faculty may borrow items or request copies of journal articles from other libraries. There is no charge for this service, except in the cases of very rare materials and some dissertation microforms. Create or Login to your ILLiad account to submit requests. For more information see Interlibrary Loan Policies or contact the Interlibrary Loan Department at 402-554-3209.
Library Instruction
Library instruction classes are available to introduce students to Criss Library services and resources, information literacy, and issues of scholarly communication. To request instruction tailored to the particular needs of your students, call 4-3003 or complete the electronic instruction request form. Reference Subject Librarians are also available for instructional support. Follow the link for more information about the Library's Instruction Program.
Materials Purchase Requests
Faculty members are encouraged to recommend materials for addition to the Library collection. Contact your departmental liaison or your department's Subject Librarian.
Material Checkout
Books: 16 weeks with two renewals
Periodicals: three days with one renewal
Videos and other A/V materials: one week with one renewal.
Renewals may be made by phone to the circulation department (4-3206) and within the library catalog using the "Review Account" option and entering your name and NU I.D. number.