Library News
Criss Library is extending hours for prep and finals week this semester. "We are pleased to offer students this additional time, said Audrey DeFrank, Interim Dean of Libraries." The library will stay open until 1 am Monday-Thursday during prep week and Sunday-Wednesday during finals week to allow UNO students additional research and study hours.
Extended library dates are:
Noon-1 am, Sunday, May 3
7 am-1 am, Monday-Wednesday, May 4-6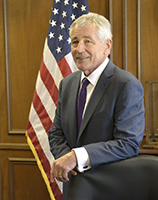 Charles Timothy "Chuck" Hagel left the Department of Defense in February after two years as U.S. Secretary of Defense in the Obama Administration. On display are the colorful and often unique gifts Hagel received in 2013 and 2014, mostly from his defense counterparts in other countries while on official travel. A 1971 graduate of UNO, Hagel represented Nebraskans in the U.S. Senate from 1997 to 2009. Archives & Special Collections holds Hagel's records and memorabilia from these years, as well.