Library News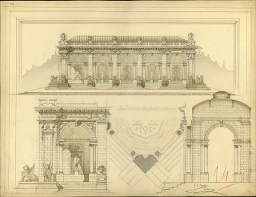 On display on the first floor of Criss Library is the new exhibit, "The Architectural Studies of H. A. Raapke," featuring works produced during H. A. Raapke's student years, circa 1899-1907. Many of these drawings were part of his coursework for two schools in Paris: Altier Préparatoire D'Architecture and École Nationale des Beaux-Arts.
Sixteen of Raapke's original drawings are on display in the windows of the Archives and Special Collections area of Criss Library. The exhibit will run through the end of April 2016. All 59 extant drawings in the library's collection may be viewed in the Criss Library Online Exhibit space at http://unomaha.omeka.net/exhibits/show/raapke.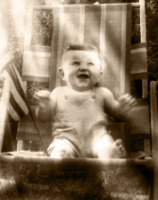 On display in Archives and Special Collections at Criss Library is Charles Timothy Hagel: A Life in Photographs, a biographical exhibit spanning the life of U.S. Secretary of Defense and U.S. Senator Chuck Hagel. A more in-depth version of the exhibit with some different photographs can be viewed online at: http://hagel.omeka.net/exhibits/show/chuckhagelbiography.
This exhibit coincides with the opening of the first portion of the U.S. Senator Chuck Hagel Archives to the community. Researchers may now browse and search inventories of Hagel Photographs, Artifacts, Grant Files, and Schedules in the Archives and Speical Collections database at http://unomaha-public.lyrasistechnology.org/repositories/4/resources/508.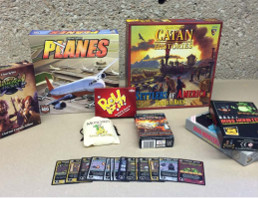 Game Night at Criss Library will be onFebruary 21 from 6-9pm! Game Night will continue on the 3rd Sunday of each month throughout the rest of the semester! Bring your own board games, or use ours. Everyone is welcome, so mark your calendars, and bring a friend! If you have questions, contact Claire Chamley at cchamley@unomaha.edu.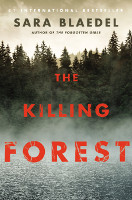 International bestselling author of The Forgotten Girls, Sara Blaedel, will visit Omaha on her U.S. tour for her new book The Killing Forest with an event co-sponsored by UNO Dr. C.C. and Mabel L. Criss Library and the Danish American Archive & Library. Blaedel will speak at UNO's Criss Library on Saturday, February 6th at 1pm. Light refreshments will be served. Sara Blaedel is the author of nine bestselling crime fiction novels published in twenty three countries, translated into over thirteen languages, and optioned for film rights.
Blaedel's latest thriller The Killing Forest takes readers on a journey back through detective Louise Rick's past as she reconnects with the principal investigator at the Hobaek Police Department, her former in-laws, a fanatic religious cult, and her longtime close friend, journalist Camilla Lind. As she navigates through the small town's cramped network of deadly connections, Louise unearths toxic truths left unspoken, and dangerous secrets. The book is full of fascinating details about ancient Nordic religions.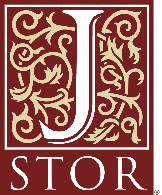 Criss Library recently purchased the JSTOR "full house", and UNO now has access to all fourteen Arts & Sciences collections, and the Life Science collection. The JSTOR collections stand among the most important archives of academic journals, and the "full house" brings over 2,100 additional journals to the library's JSTOR account.
As is standard with the JSTOR archives, a three-to-five year "moving wall" governs access to articles. Depending on the license negotiated with each journal publisher, articles are released into the archival collections three to five years after publication. More recent articles may be available through the library's current subscriptions, and researchers may check the All eJournals A-Z directory to confirm this. The library catalog also includes records for journal subscriptions and even many individual articles.
For more information about these new resources, please contact Jim Shaw at jshaw@unomaha.edu or (402)554-2225.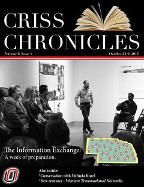 For your reading enjoyment, the current issue of the library newsletter, Criss Chronicles, is available. Click here to read the latest!
Disability Services
The library is committed to providing full access to library materials for all patrons. The library maintains a close relationship with UNO Disability Services and works closely with library patrons, University agencies and others in order to accommodate the needs of our disabled users. The library will strive to accommodate any patron who requests assistance because of disability or impairment and who is not adequately served by the existing access technologies or policies of the library.
Books and Periodical Stacks
Portions of the books and periodical stacks (shelves) may not be accessible to all mobility impaired or disabled patrons. Library staff will provide assistance to these patrons to obtain their materials through a retrieval service.
Patrons requiring the service should provide complete call numbers for the items needed to the Main Service Desk on the main floor of the library in person. Telephone requests will not be accepted. Staff will then pull the requested materials from the shelves as quickly as possible. Normally, requests require only a few minutes to fill. However, staff availability and work load can occasionally cause delays.
At times, patrons may wish to "browse" certain call number areas of the stacks. These requests may require some assistance and a longer response time. Please contact the Main Service Desk at 402-554-3206 to schedule browsing and to ensure correct materials are made available.
Omaha World-Herald Access for the Visually Impaired
The Nebraska Library Commission and the Nebraska Commission for the Blind and Visually Impaired provide Newsline, a service that uses phone lines to access newspapers through synthetic speech. Qualifying individuals with touch-tone telephones can access Newsline through a toll-free number. Other newspapers are also available. To subscribe, contact the Talking Book and Braille Service at 402-471-4038 or 800-742-7691 or by e-mail at readadv@nlc.state.ne.us. The Nebraska Library Commission also makes available a talking book service.
Clearview System
The Clearview System will enlarge and enhance any print material. It includes a writing surface. It is located in the 2nd floor computer lab, north side, near the SCOLA area, immediately next to the Zoom Text machine. The Clearview System is easy to use and library staff will demonstrate its operation on request.
ZoomText
A computer screen enlargement and enhancement program (ZoomText) is available for all standard library applications. The ZoomText workstation is located in the 2nd floor computer lab, north side, near the SCOLA area. Library personnel will provide training on request to library patrons unfamiliar with this technology. A trackball mouse is available for this station.
JAWS Software
JAWS screen reading software is available on a workstation located in the 2nd floor computer lab, north side, near the SCOLA area, one row east of the ZoomText workstation. A scanner is available to scan text materials for use with JAWS, and headphones can be checked out at the Main Service Desk which is also on the main floor.
Photocopy Equipment
A photocopy/ print machine modified to assist patrons who are unable to use conventional height copiers is available on the second floor of the library in the print center just east of the Main Service Desk. Main Service Desk staff will assist patrons upon request. Wheelchair accessible microform copier/readers are available east of the microfilm filing cabinets on first floor.
Building Services
Restrooms and drinking fountains are accessible.
Assisted entry and exit doors are located at the main entrance.
Study rooms are available to patrons who require readers, note takers or other persons to assist them with study and research and who need a space that permits conversation.
Study tables with wheelchair cutouts are located in the main seating area on each floor.
Two elevators are available on each floor. One on the southeast end next to the restrooms and the other on the northwest end near the Kahn additon.
Disability Services Contacts
Library services, materials and equipment designed to serve disabled patrons are constantly changing. Please contact the library with any questions or if you become aware of access needs that are not addressed by current services or technologies.
Library Administrative Office, Main Floor
Library liaison and contact for all accommodation requests, unmet service needs, information, problem resolution.
Telephone: (402) 554-2640

Main Service Desk, Main Floor
In-person paging requests, assistance or training for adaptive technology equipment.
Telphone: (402) 554-3206

Reference Desk, First Floor
Assistance or training in using Library adaptive technology equipment.
Telephone: (402) 554-2661

UNO Disability Services
Campus-wide information and assistance.
Eppley Administration Building, Room 117
Telephone: (402) 554-2409
Disability Services Home Page
http://www.unomaha.edu/disability/