Library News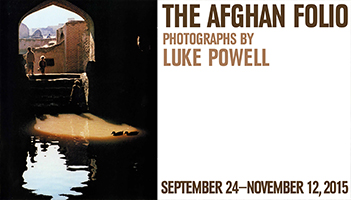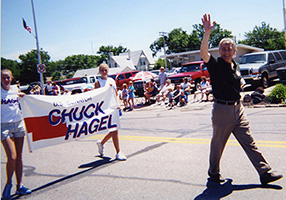 The newest exhibit in Archives & Special Collections at Criss Library gives visitors a glimpse into the life of Chuck Hagel on the campaign trail in Nebraska in 1996 and 2002. When Hagel decided to run for U.S. Senate in 1996 he was virtually unknown to most Nebraskans. As such, Hagel needed to reach out to communities across the state if he intended to win the election. One way Hagel gained support was through local parades and events. This approach helped Hagel win the election and maintain his seat when he ran again in 2002. The photos on display provide a look into the many events, parades, and other local activities that Hagel, his family, his campaign staff, and his volunteers participated in acro ss Nebraska to garner support for Hagel in his two runs for public office.
SCOLA / Language Learning Center
The SCOLA / Language Learning Center is a unique, barrier-free language learning center featuring live SCOLA programming from around the world. The SCOLA broadcasts are available on the second (main) floor of the library. The Criss Library has expanded the language learning software available through Transparent Language. The new Languages of the World software supports language learning in 76 languages. Transparent Language also provides Before You Know It and Learn Language Now.
SCOLA Language Learning Center Website
SCOLA is a non-profit educational organization that receives and re-transmits television programming from around the world in native languages. Programming includes "Insta-classes" with each lesson combining video and audio clips with transcription and translation, quizzes, and vocabulary; live videostreams; world radio; photographs; and other cultural enrichment. Over Sixty-five languages are available through Streaming Video Broadcasts and/or Insta-Classes.
Some programming requires additional software which is available for download free from the internet.
Login information:
Web-Based Language Learning Resources
Live Mocha is a free, web based language learning solution integrating online instructional content with a global community of language learners. English, Spanish, French, Hindi, German, and Mandarin Chinese languages are available.
FSI Language Courses are developed by the Foreign Service Institute and are freely available in the public domain. These are courses created by the US government and are not affiliated with any government entity. Their purpose is to foster language learning and users may select thirty-four languages.
The Language Learning Library is a language learning portal offering highly relevant and useful language learning related resources for Chinese, French, German, Italian, Japanese, Portuguese, Russian, and Spanish languages. The Language Learning Library was created to meet the needs of both teachers and students alike with grammar, alphabets, pronunciation guides, cultural resources and much more.
Transparent Language Learning Programs
The Transparent Language software programs described below are accessible only in the library.
Languages of the World, a product of Transparent Language, now provides self-paced immersion experiences to develop vocabulary skills as well as reading and listening skills in seventy-six languages.
Before You Know It is a product of Transparent Language and it is designed to provide engaging and effective vocabulary building exercises—a fundamental first step in language acquisition. Fifteen Languages are available.
Learn Language Now immerses language learners in a foreign language and provides self-paced opportunities to read, write, listen and practice speaking. Exercises are based on real-life scenarios making the language and culture come alive. The immersion environment consists of foreign language texts, translations, grammar information, and native speaker sound, with many accompanied by videos or illustrations. Fifteen languages are available.