Library News
Criss Library hours for Wednesday, November 25th will be 7:00am - 5:00pm. The library will be closed, Thursday through Saturday, November 26-28 in observance of the Thanksgiving holiday.
Regular hours resume Sunday, November 29, at noon.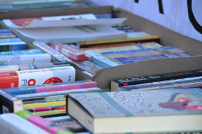 The University Library Friends will be holding a Book Sale November 30-December 4 on the main floor of the Library.
Paperbacks & media will be $1, and hardcover books will be $2. Proceeds from the sale benefit the UNO Criss Library via donation to the University Library friends. All book sale items are gift donations to the library.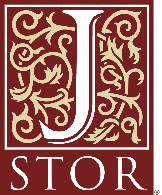 Criss Library recently purchased the JSTOR "full house", and UNO now has access to all fourteen Arts & Sciences collections, and the Life Science collection. The JSTOR collections stand among the most important archives of academic journals, and the "full house" brings over 2,100 additional journals to the library's JSTOR account.
As is standard with the JSTOR archives, a three-to-five year "moving wall" governs access to articles. Depending on the license negotiated with each journal publisher, articles are released into the archival collections three to five years after publication. More recent articles may be available through the library's current subscriptions, and researchers may check the All eJournals A-Z directory to confirm this. The library catalog also includes records for journal subscriptions and even many individual articles.
For more information about these new resources, please contact Jim Shaw at jshaw@unomaha.edu or (402)554-2225.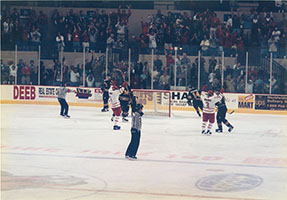 Relive the excitement of UNO Hockey in Criss Library Archives & Special Collections! UNO began its NCAA Division I hockey program in the fall of 1997. The first Maverick hockey contest was on October 17, 1997 at the Omaha Civic Auditorium – a 3-2 loss to the University of Manitoba Bisons. The display includes memorabilia from the first game including a game-worn jersey from the first Maverick to score a goal, programs, tickets, and photographs along with a signed puck, cowbell, and programs signed by the 2015 Frozen Four Mavericks Hockey team. Video clips from the game can also be viewed in the lobby of Archives & Special Collections.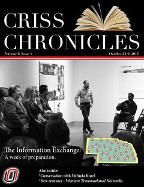 For your reading enjoyment, the current issue of the library newsletter, Criss Chronicles, is available. Click here to read the latest!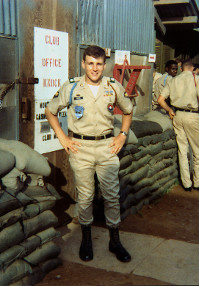 On display on the 1st floor of Criss Library is the new exhibit "In Service to His Country: Chuck Hagel and Vietnam." The exhibit of photographs and memorabilia from the U.S. Senator Chuck Hagel Archives focuses on his military service in Vietnam and the Vietnam Veterans Memorial Wall in Washington, D.C. The memorabilia includes a shovel used at the 1982 groundbreaking ceremony for The Wall, a replica of the Three Soldiers Statue, and certificates for his Purple Heart awards. Among the pictures are Hagel during his Vietnam tour, at The Wall in 1982, and with the other U.S. Senators who served in Vietnam.
SCOLA / Language Learning Center
The SCOLA / Language Learning Center is a unique, barrier-free language learning center featuring live SCOLA programming from around the world. The SCOLA broadcasts are available on the second (main) floor of the library. The Criss Library has expanded the language learning software available through Transparent Language. The new Languages of the World software supports language learning in 76 languages. Transparent Language also provides Before You Know It and Learn Language Now.
SCOLA Language Learning Center Website
SCOLA is a non-profit educational organization that receives and re-transmits television programming from around the world in native languages. Programming includes "Insta-classes" with each lesson combining video and audio clips with transcription and translation, quizzes, and vocabulary; live videostreams; world radio; photographs; and other cultural enrichment. Over Sixty-five languages are available through Streaming Video Broadcasts and/or Insta-Classes.
Some programming requires additional software which is available for download free from the internet.
Login information:
Web-Based Language Learning Resources
Live Mocha is a free, web based language learning solution integrating online instructional content with a global community of language learners. English, Spanish, French, Hindi, German, and Mandarin Chinese languages are available.
FSI Language Courses are developed by the Foreign Service Institute and are freely available in the public domain. These are courses created by the US government and are not affiliated with any government entity. Their purpose is to foster language learning and users may select thirty-four languages.
The Language Learning Library is a language learning portal offering highly relevant and useful language learning related resources for Chinese, French, German, Italian, Japanese, Portuguese, Russian, and Spanish languages. The Language Learning Library was created to meet the needs of both teachers and students alike with grammar, alphabets, pronunciation guides, cultural resources and much more.
Transparent Language Learning Programs
The Transparent Language software programs described below are accessible only in the library.
Languages of the World, a product of Transparent Language, now provides self-paced immersion experiences to develop vocabulary skills as well as reading and listening skills in seventy-six languages.
Before You Know It is a product of Transparent Language and it is designed to provide engaging and effective vocabulary building exercises—a fundamental first step in language acquisition. Fifteen Languages are available.
Learn Language Now immerses language learners in a foreign language and provides self-paced opportunities to read, write, listen and practice speaking. Exercises are based on real-life scenarios making the language and culture come alive. The immersion environment consists of foreign language texts, translations, grammar information, and native speaker sound, with many accompanied by videos or illustrations. Fifteen languages are available.