Library News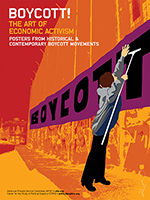 "Boycott! The Art of Economic Activism," a traveling poster exhibition highlighting historical boycott movements from the 1950s to the present, will be on Display August 20 - September 20 at University of Nebraska at Omaha Criss Library's Osborne Family Gallery.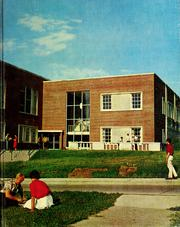 The University of Nebraska at Omaha yearbook or annual went by several names, beginning as the Gateway in 1915 and then becoming the Omahan, Tomahawk, and Breakaway before ending as the Maverick in 1973-1975. Through the yearbooks themselves, the exhibit highlights the university's response to World War II; images of the growing and changing campus, especially Arts & Sciences Hall; and changes in the content and appearance of the yearbook. The exhibit in Archives & Special Collections marks 100 years since the publication of the university's first yearbook and the free online access to UNO's yearbook first available in 2015 from Criss Library.
The current exhibit in Archives and Special Collections has a display of Afghan Art dating from the 1st century B.C.E. to the present. Items on display reveal information on Greco-Bactrian art, contemporary art, popular art, and miniature paintings by Bihzad, a famous Afghan painter from late 15th and early 16th centuries. Also included in the display are handmade pottery works from Afghanistan, produced in Istalif, a small town north of Kabul during the mid-twentieth century.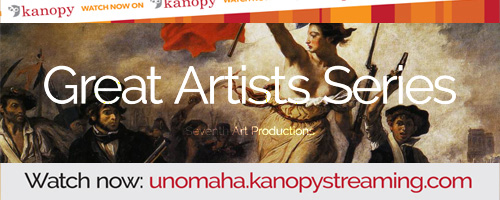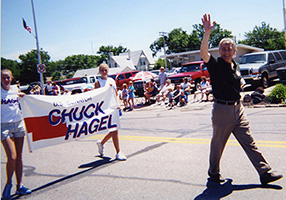 The newest exhibit in Archives & Special Collections at Criss Library gives visitors a glimpse into the life of Chuck Hagel on the campaign trail in Nebraska in 1996 and 2002. When Hagel decided to run for U.S. Senate in 1996 he was virtually unknown to most Nebraskans. As such, Hagel needed to reach out to communities across the state if he intended to win the election. One way Hagel gained support was through local parades and events. This approach helped Hagel win the election and maintain his seat when he ran again in 2002. The photos on display provide a look into the many events, parades, and other local activities that Hagel, his family, his campaign staff, and his volunteers participated in across Nebraska to garner support for Hagel in his two runs for public office.
Criss Library Strategic Plan Objectives
Collections
Maximize access to intellectual content by providing the most cost-effective blend of formats, considering that any format must meet minimum levels for reliability and usability.
Actively seek and add new intellectual content by considering resources in all appropriate formats, and matching acquisitions with the relative needs and merits of UNO research and instructional programs.
Connections
Pursue opportunities to better serve the community by developing relationships with cultural institutions (museums, galleries, archives) and not-for-profit organizations that go beyond inter-library cooperation.
Participate in recruitment efforts by promoting library services to area high school programs (dual enrollment, AP courses) and individual classes and students with advanced research needs and abilities.
Promote diverse thinking, intellectual exploration and social learning with a variety of exhibits and collections that will intrigue students, faculty and the community at large.
People
Focus on library users by identifying their needs through surveys and frequent personal interaction. Meet needs in ways that will enhance the research experience with elements of satisfaction and delight.
Make the library a learning organization, adaptable to changing user needs by continuously educating library staff and revising procedures to optimize electronic resources. Be early adopters of new technologies, and constant adopters of new work roles that match talents and interests with user needs.
Physical Space
Position the library as UNO's preferred "third place"[1], an environment encouraging creativity and discovery, by creating a comfortable environment that promotes productivity and social interaction. Provide facilities that are both welcoming and supportive of multiple types of learning experiences ranging from quiet study to group activity to organized programs and community cultural events.
Create a safe sanctuary for learning by maintaining physical security, comfort, and ease of use for as many open hours as possible.
Technology
Create a virtual "third space"[1], an environment encouraging creative and intellectual exploration and discovery, a place in the mind of the user. Gather relevant resources that will shape themselves to user preferences and connect to other campus, personal and professional services. Provide access to the latest technology for those who do not, or are unable to own it.
Make electronic resources more desirable by presenting the most seamless and easy-to-use access methods possible with advanced searching technology and "push" communications technology. Select software on the basis of intuitive functioning and integration with other services. Make online resources as self-service as possible by creating point-of-use help and tutorial features.
[1] "The Third Place" is a term used in the concept of community building to refer to social surroundings separate from the two usual social environments of home and the workplace. In his influential book The Great, Good Place, Ray Oldenburg argues that third places are important for civil society, democracy, civic engagement, and establishing feelings of a sense of place. Michael Krassa argues along similar lines, looking at neighborhood design, social network formation, and civic involvement. Wikipedia, http://www.wikipedia.com/