Library News
Criss Library is extending hours for prep and finals week this semester. "We are pleased to offer students this additional time", said Dave Richards, Dean of Library Services. The library will stay open until 1:00am Monday-Thursday during prep week, and Sunday-Thursday during finals week to allow UNO students additional research and study hours.
Extended hours dates are:
Monday-Thursday, April 25-28: 7:00am-1:00am
Sunday, May 1: Noon-1:00am
Monday-Wednesday, May 2-4: 7:00am-1:00am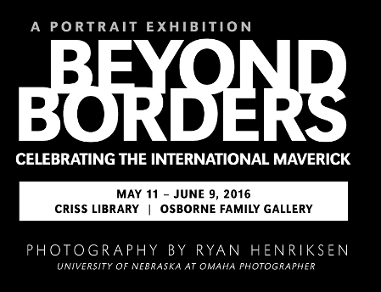 Gallery of Previous Events and Exhibits
Biodiesel Fueled Rickshaw Exhibit
A biodiesel fueled rickshaw on display in the lower level of the Criss Library from Thursday, April 22 until Monday, May 2, 2010. Biodiesel is a fuel that can be made from vegetable oils, recycled cooking oils from fast food restaurants and animal fats. This rickshaw is owned by Robert Byrnes, President of Nebraska Renewable Energy Association and Owner of Nebraska Renewable Energy Systems. This rickshaw was previously featured at UNO's Earth Day Celebration.
UNO Library Friends Poetry Reading
In celebration of National Poetry Month, the UNO Library Friends sponsored a Poetry Reading at the Criss Library. Matt Mason and Sarah McKinstry-Brown were the featured readers. Sarah McKinstry-Brown has published work in Freedom to Speak: The 2003 National Poetry Slam Anthology, the Great American Road Show, as well as published book collections, Dancing With Statues (Morpo Press) and When You Are Born (Blue Light Press). Matt Mason's book, Things We Don't Know We Don't Know, was published by The Backwaters Press in 2006. He has also published poems in Prairie Schooner, The Laurel Review and Mid-American Review. Matt actively promotes poetry by organizing readings and discussions across the state of Nebraska.
Posters and Politics Opening Reception
Political posters and historical prints from the personal collection of Sam Walker, professor emeritus with the School of Criminology and Criminal Justice at the University of Nebraska at Omaha (UNO), opening reception.
Soaring China Exhibition and Cultural Activities Day
"Soaring China," a nationally recognized photography exhibit which highlights the achievements in China since its open-door policy began in 1979. the exhibit began with an opening ceremony and concluded with a fun filled Chinese cultural activities day.
A Community of Color Photographic Exhibition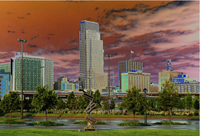 These photographs are an imaginative presentation of notable scenes in and around east Omaha. Using digital techniques, photographer James E. Ducey, B.S. UNL and M.A. UNO, shows how color and perspective are essential for understanding one's surroundings.
Poetry Reading
In conjunction with National Poetry Month, Greg Kuzma, Professor of English at UNL, presented a poetry reading at the KANEKO-UNO Library.
BOGO Book Fair
The Criss Library, along with the UNO Honors Program and University Library Friends, sponsored a Scholastic Book Fair. There were books for children of all ages, instructional materials, games, videos, and toys. Donations were accepted to support Liberty Elementary School .
Chair of Daniel Edwards Jenkins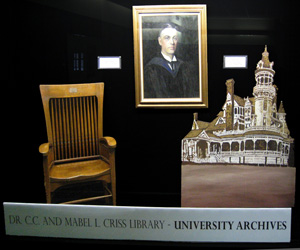 Daniel Edwards Jenkins, born in North Wales in 1866, attended the Universities of Wooster and Melbourne, in Ohio and Australia. Returning to America in 1890, he attended Princeton Theological Seminary. Ordained in the Presbyterian ministry in 1891, he served as president of Parsons College in Fairfield, Iowa. In 1900, he accepted the chair of doctrinal theology and apologetics at Omaha's Presbyterian Theological Seminary.
Rendering of Redick Hall
Redick Hall, dating from the mid-1870s, is named for Oak C. Redick, a member of the board of trustees who offered his 10-acre homestead mansion at Twenty-fourth and Pratt Streets on flexible terms. Remodeling the grand mansion involved turning bedrooms into classrooms, laboratories, a chapel, and space for students and faculty to eat and socialize. The kitchen housed physics, the garage chemistry. The completion of Joslyn Hall in 1916 relegated the mansion obsolete. It was dismantled and shipped 222 miles to Currie, Minnesota, and recycled as a dance pavilion and cafe on Lake Shetek.
"Architecture and Oppression: Berlin 1933-1945" by Paul Jaskot
In conjunction with the "When They Came To Take My Father" exhibit, the Criss Library and History Department sponsored a lecture by Paul Jaskot, professor of Art History at DePaul University in Chicago, entitled "Architecture and Oppression: Nazi Berlin, 1933-1945". The presentation examined the relationship between Hitler's high-profile monumental architecture, the oppression of National Socialist Germany and its most extreme punitive institution, the concentration camps.
Book Fair: Give the gift of reading
The Library sponsored a Scholastic Children's Book Fair, there were books for children of all ages, instructional materials, games, videos, and toys. Donations were accepted for the "Read Me A Story" literacy program with Douglas County Corrections.
Rock and Roll Discussion with Tomm Roland
In collaboration with the exhibit "Technicolor Dreaming," a collection of psychedelic posters from the Rock and Roll Hall of Fame and Museum, Tomm Roland from the UNO Department of Music led a lecture and discussion on the music of the psychedelic era, as well as, the connection between the youth and drug culture of that time.
Writers Panel and Dessert Reception on Carl Jonas
Between 1945 and 1973, Carl Jonas published eight novels with WW Norton, Little, Brown & Co., and Dell, including Lillian White Deer, The Observatory, Our Revels Now Are Ended and The Sputnik Rapist. Frequently set in a fictional Gateway City, his work focused on the behavior of well-educated business people and academics. For a number of years, Jonas was an instructor in UNO's English Department.
In honor of Jonas' writing and his association with UNO, the Criss Library presented a panel discussion of his life and work. Several colleagues and friends of Jonas participated: Thomas Kuhlman, Professor Emeritus of English at Creighton University; Bruce Baker, Professor Emeritus of English, UNO; Richard Duggin, Professor and founder of UNO's Writer's Workshop; and John McKenna, Professor of English, UNO.
Trumpets and Crumpets
In celebration of UNO's Centennial, the Criss Library hosted an elegant afternoon of jazz and tea in the Tritsch Garden, off the newly renovated first floor. Attendees enjoyed the sounds of The Pat Higgins Jazz Trio and the tastes of crumpets, scones and delicious pastries.
"A Century on Wheels" A UNO Centennial Celebration
We "rolled in" a 1908 Cadillac and a 2008 Cadillac on to the first floor of the newly renovated library and showed you everything in between! The visual timeline of events and happenings on UNO's campus from 1908-2008 with archived Gateway articles, photographs, and other unique memorabili were exhibited.
Spanish Language Materials Open House
A wonderful afternoon was had by all who attended the Spanish Language Open House on Thursday, September 18 in the Tritsch Garden. Patrons were able to enjoy the sounds of Jorge Nila and the Jazz Ninjas, taste homemade Spanish desserts, and view some of the 400 NEW Spanish Language materials for the juvenile and adult collection the library has obtained from their travels to the FIL International Book Fair in Guadalahara, Mexico. We invite you to come to the library and check out some of these materials today!
For more information about these events and exhibits, please contact the Dr. C.C. and Mabel L. Criss Library at (402) 554-2640, or email Linda Riviera.