Library News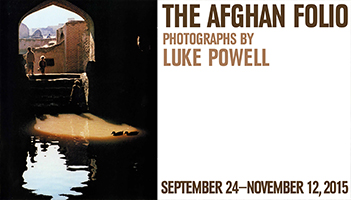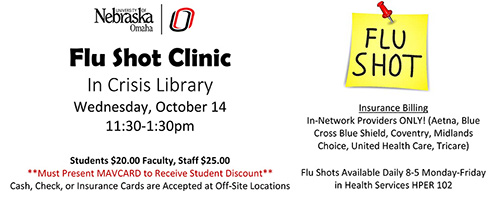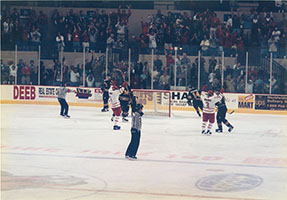 Relive the excitement of UNO Hockey in Criss Library Archives & Special Collections! UNO began its NCAA Division I hockey program in the fall of 1997. The first Maverick hockey contest was on October 17, 1997 at the Omaha Civic Auditorium – a 3-2 loss to the University of Manitoba Bisons. The display includes memorabilia from the first game including a game-worn jersey from the first Maverick to score a goal, programs, tickets, and photographs along with a signed puck, cowbell, and programs signed by the 2015 Frozen Four Mavericks Hockey team. Video clips from the game can also be viewed in the lobby of Archives & Special Collections.
Relive UNO's first NCAA Division I Hockey game! Criss Library will replay UNO's sold out 1997 exhibition hockey game against the University of Manitoba on Saturday, October 17th at 1:30pm to mark the first hockey game at Baxter Arena. Memorabilia including a game-worn jersey, photographs, programs, & more will also be on display in Criss Library Archives & Special Collections.
Free & open to the public. Light refreshments will be served.
For more information, contact Amy Schindler at acschindler@unomaha.edu, 402-554-6046.
UNO Library Friends
WHO WE ARE:
The UNO Library Friends is a non-profit organization whose primary purpose is to support the Criss Library. Members recognize the vital role the library plays in learning, teaching and research and are committed to enriching the quality of UNO's library services and resources.
WHAT WE DO:
Friends provide organizational and financial support for the library collections and services that are not available through public funding sources. UNO Library Friends . . .
Stimulate community awareness and use of the library.
Sponsor lectures, conferences, exhibits, or other public events that enrich the community's cultural life.
Provide recognition for outstanding services performed by library staff members and students.
Provide volunteer assistance to library staff.
Purchase library materials.
WHO CAN JOIN:
Anyone may become a member of UNO Library Friends — alumni, faculty, staff, students, parents, neighbors, businesses, associations, and other well wishers. By becoming a member of UNO Library Friends you demonstrate your support for the central role of the library in the intellectual life of the academic community, and you personally contribute to its growth.
BENEFITS OF MEMBERSHIP
Criss Library card borrowing privilege
Interlibrary loan privileges
Library Friends Book Club
Announcements of upcoming events and exhibits
Library Friends Newsletter
Up-to-date information about library services
The knowledge that your support makes a difference
For additional information and to pick up a membership application, contact the library at 402-554-2640.