Library News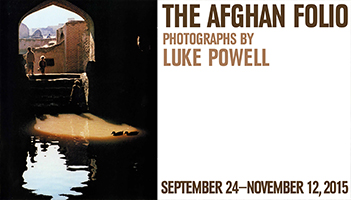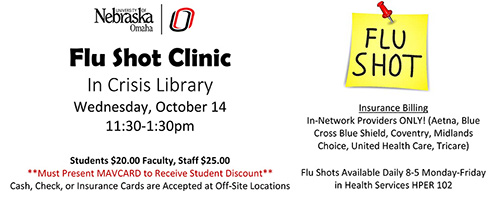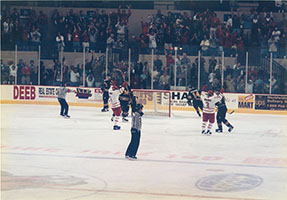 Relive the excitement of UNO Hockey in Criss Library Archives & Special Collections! UNO began its NCAA Division I hockey program in the fall of 1997. The first Maverick hockey contest was on October 17, 1997 at the Omaha Civic Auditorium – a 3-2 loss to the University of Manitoba Bisons. The display includes memorabilia from the first game including a game-worn jersey from the first Maverick to score a goal, programs, tickets, and photographs along with a signed puck, cowbell, and programs signed by the 2015 Frozen Four Mavericks Hockey team. Video clips from the game can also be viewed in the lobby of Archives & Special Collections.
Relive UNO's first NCAA Division I Hockey game! Criss Library will replay UNO's sold out 1997 exhibition hockey game against the University of Manitoba on Saturday, October 17th at 1:30pm to mark the first hockey game at Baxter Arena. Memorabilia including a game-worn jersey, photographs, programs, & more will also be on display in Criss Library Archives & Special Collections.
Free & open to the public. Light refreshments will be served.
For more information, contact Amy Schindler at acschindler@unomaha.edu, 402-554-6046.
ILL Policies
Interlibrary Loan (ILL) is a service designed to obtain materials not available in the Criss Library collections.
Interlibrary Loan is available to students, faculty and staff currently affiliated with UNO, UNL, and UNO Library Friends. Interlibrary loan services are unavailable to those who have outstanding fines or blocks on their library accounts.
The Library uses the ILLiad system to process and fill interlibrary loan requests. Library users must create an ILLiad account before using this service and are encouraged to provide an email account for notification. Unless requested otherwise, books received through Interlibrary Loan are held for pick-up at the Library's Main Service Desk. Requested articles are digitized and uploaded to the user's ILLiad account in PDF format. Notification for materials received, requests cancelled, materials overdue and recalled are made via email.
There is no charge for this service, except in the cases of very rare materials and some dissertation microforms. Users may specify within their ILLiad account how much they are willing to pay. If the lending library charges in excess of that amount, we will verify charges with the requester before ordering the material. All Interlibrary loans are dependent on the availability of requested material from other libraries.
Loaned materials may be renewed online prior to the due date in the costomer's Illiad account. Renewal requests may also be made over the telephone by calling 402-554-3209, or by emailing Mark Walters. Interlibrary Loan office hours are: Monday - Friday 8:00 a.m. - 5:00 p.m. Interlibrary Loan service are also available from the Library's Main Service Desk.