Library News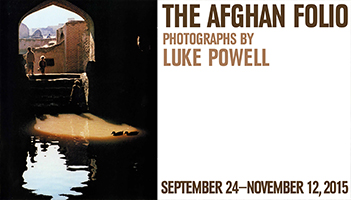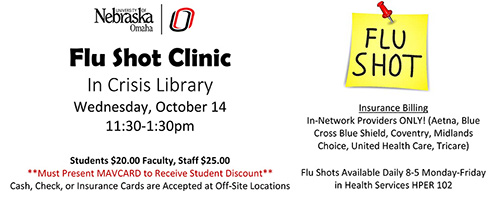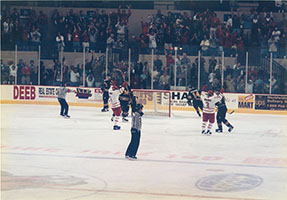 Relive the excitement of UNO Hockey in Criss Library Archives & Special Collections! UNO began its NCAA Division I hockey program in the fall of 1997. The first Maverick hockey contest was on October 17, 1997 at the Omaha Civic Auditorium – a 3-2 loss to the University of Manitoba Bisons. The display includes memorabilia from the first game including a game-worn jersey from the first Maverick to score a goal, programs, tickets, and photographs along with a signed puck, cowbell, and programs signed by the 2015 Frozen Four Mavericks Hockey team. Video clips from the game can also be viewed in the lobby of Archives & Special Collections.
Relive UNO's first NCAA Division I Hockey game! Criss Library will replay UNO's sold out 1997 exhibition hockey game against the University of Manitoba on Saturday, October 17th at 1:30pm to mark the first hockey game at Baxter Arena. Memorabilia including a game-worn jersey, photographs, programs, & more will also be on display in Criss Library Archives & Special Collections.
Free & open to the public. Light refreshments will be served.
For more information, contact Amy Schindler at acschindler@unomaha.edu, 402-554-6046.
Faculty Library Assistant Services Policy
Faculty Library Assistant (FLA) Service to Faculty
Faculty members who wish to authorize a FLA to take care of library business for them may fill out the online FLA form, download this PDF to fill out and return to the Main Service Desk, or you may acquire a copy of this form from the Main Service Desk. Each faculty member may have a total of two FLAs per semester.
The signed application will be kept on file to verify your FLAs authorization and renewal notices will be emailed to you near the end of each semester. FLA's will need to present their University ID card and inform Library staff they are Faculty Library Assistants.
New Faculty Library Assistants
After a faculty sponsor has authorized you to be a library assistant, your name will be placed on a list of current assistants.
When you wish to conduct business for your faculty sponsor, please give the library staff member on duty your name and the name of your sponsoring faculty member. You will be asked to produce a photo ID such as your student ID (MavCard) or a driver's license to ensure that you are an authorized assistant.
You will not need your sponsor's ID card or library account number. Anything you check out in your capacity as a library assistant from the Main Service Desk will be charged to a special account under your faculty sponsor's name.
Library Assistants should not check out any materials for faculty sponsors on their personal library accounts. You are responsible for any items charged on your account number, including any resulting fines or replacement costs.