Library News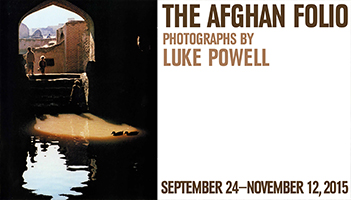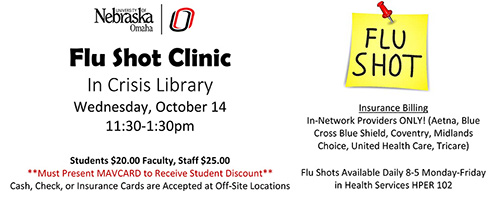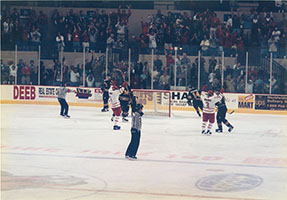 Relive the excitement of UNO Hockey in Criss Library Archives & Special Collections! UNO began its NCAA Division I hockey program in the fall of 1997. The first Maverick hockey contest was on October 17, 1997 at the Omaha Civic Auditorium – a 3-2 loss to the University of Manitoba Bisons. The display includes memorabilia from the first game including a game-worn jersey from the first Maverick to score a goal, programs, tickets, and photographs along with a signed puck, cowbell, and programs signed by the 2015 Frozen Four Mavericks Hockey team. Video clips from the game can also be viewed in the lobby of Archives & Special Collections.
Relive UNO's first NCAA Division I Hockey game! Criss Library will replay UNO's sold out 1997 exhibition hockey game against the University of Manitoba on Saturday, October 17th at 1:30pm to mark the first hockey game at Baxter Arena. Memorabilia including a game-worn jersey, photographs, programs, & more will also be on display in Criss Library Archives & Special Collections.
Free & open to the public. Light refreshments will be served.
For more information, contact Amy Schindler at acschindler@unomaha.edu, 402-554-6046.
Directions to the Library
From Interstate 80...
» Take Exit 449 labeled "72nd Street" and travel north on 72nd Street to Dodge Street.
» Turn east (right) on Dodge Street. Continue on Dodge Street to 67th Street.
» Turn south (right) onto 67th Street.
» Turn east (left) onto University Drive at the first intersection.
» Travel past the Durham Science Center and the first stop sign on University Drive.
» Continue on University Drive and turn right into parking Lot E.
» The library is located to the west of the bell tower. The entrance to the building is on the south.
For all other directions, visit MapQuest.
Maps:
Yahoo! Map [opens in new window]
Google Maps [opens in new window]
Parking
Visitor parking is available on campus. See the Visitor Parking Map [opens in a new window] for more information.