Library News
Criss Library is extending hours for prep and finals week this semester. "We are pleased to offer students this additional time", said Dave Richards, Dean of Library Services. The library will stay open until 1:00am Monday-Thursday during prep week, and Sunday-Thursday during finals week to allow UNO students additional research and study hours.
Extended hours dates are:
Monday-Thursday, April 25-28: 7:00am-1:00am
Sunday, May 1: Noon-1:00am
Monday-Wednesday, May 2-4: 7:00am-1:00am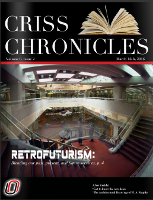 The latest issue of the newsletter,Criss Chronicles, is now available!
The Criss Library's Creative Production Lab is now offering "mini" 3D Printing. Using our new SLA resin printer, watch your small 3D models print at a higher level of detail.
Resin printing costs $.20/mL, while standard plastic printing is still just $.15/gram.
Stop by to see how you can get printing, or go to the 3D Printing Page.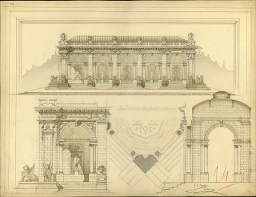 On display on the first floor of Criss Library is the new exhibit, "The Architectural Studies of H. A. Raapke," featuring works produced during H. A. Raapke's student years, circa 1899-1907. Many of these drawings were part of his coursework for two schools in Paris: Altier Préparatoire D'Architecture and École Nationale des Beaux-Arts.
Sixteen of Raapke's original drawings are on display in the windows of the Archives and Special Collections area of Criss Library. The exhibit will run through the end of April 2016. All 59 extant drawings in the library's collection may be viewed in the Criss Library Online Exhibit space at http://unomaha.omeka.net/exhibits/show/raapke.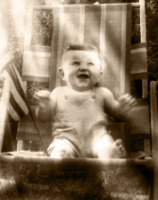 On display in Archives and Special Collections at Criss Library is Charles Timothy Hagel: A Life in Photographs, a biographical exhibit spanning the life of U.S. Secretary of Defense and U.S. Senator Chuck Hagel. A more in-depth version of the exhibit with some different photographs can be viewed online at: http://hagel.omeka.net/exhibits/show/chuckhagelbiography.
This exhibit coincides with the opening of the first portion of the U.S. Senator Chuck Hagel Archives to the community. Researchers may now browse and search inventories of Hagel Photographs, Artifacts, Grant Files, and Schedules in the Archives and Speical Collections database at http://unomaha-public.lyrasistechnology.org/repositories/4/resources/508.
About the Dean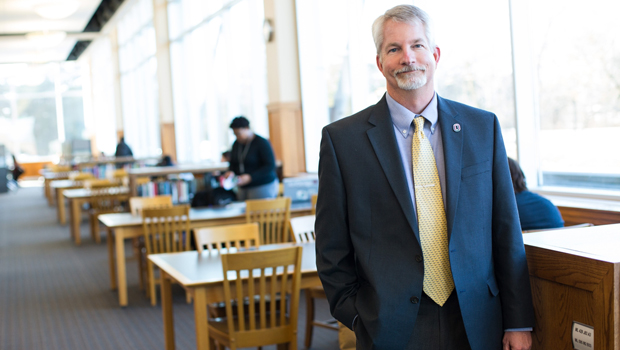 Dave Richards
Dave Richards is the Dean of the Dr. C.C. and Mabel L. Criss Library at the University of Nebraska at Omaha.  His education includes a Bachelor's degree in Art History, and a Master of Arts in European History from Western Illinois University. He also earned a Masters of Library and Information Science from Louisiana State University.
Prior to UNO, Richards served as the Head of Special Collections and Archives at Missouri State University since 1997. While at Missouri State, he also taught several courses as an associate professor. In addition to his time at Missouri State University, Richards spent time as a special collections librarian at the University of Southern Mississippi, Hattiesburg and a archivist in Baton Rouge, Louisiana and Springfield, Illinois.
New Dean Excited for His Latest Dream Job